Looking for other ways to spend quality time with your beloved? Well, all you need is a comfy mattress, some popcorn, each others company and one of these horror movies to rekindle the love.
Watching a scary movie together is the perfect setup to get your heart thumping, and a perfect excuse to snuggle up with your loved one during those nail-biting scenes. Leave it to those suspense-filled scary scenes to make your bae jump into your arms.
Here is a list of 5 horror films to get spooked and curl up with your other half, right in the comfort of your own mattress.
Conjuring- This tops our list of horror movies. Based on a true story, it is about a family who moves into a house and witnesses paranormal activities. In the first half of the movie, the events unfold quickly as the history behind the previous owner comes to light. Some parts are so horrific that you would want to hug or hide behind your partner and build a fortress of pillows around you both.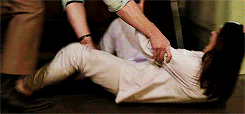 Source: GIPHY
Mahal-  We know this wouldn't be an obvious spooky pick but Bollywood has some classics that may intrigue your terror pallet. This 1949 black and white movie was Bollywood's first horror stint.  The story revolves around reincarnation and unrequited love with Ashok Kumar and the beautiful Madhubala. This movie has minimalistic effects but even decades later it continues to haunt the viewers. Lata Mangeshkar's "aayega aayega, aayega aanewala" will leave a haunting note in your mind and give you a chance to tease each other later.
Source: Bollywood Direct
Oculus- You will definitely want to stay close to your partner while watching this movie. Oculus is also about a family who moves into a new house and acquires an antique mirror. Turns out that mirror, known as the Lasser Glass, is a gateway to a supernatural force that maliciously influences anyone who gazes into it. You will be astounded to find what happens when years later the siblings decide to investigate the mirror. The movie ends on a tragic note but will leave you both with a lot of scope for discussion and debate.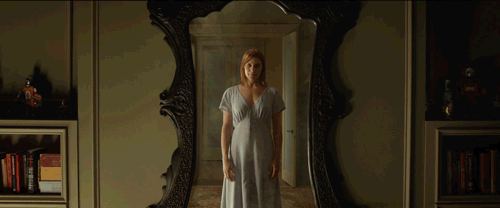 Source: Gifer
Bees Saal Baad- If you're looking for another Hindi classic, then you can't miss Lata Mangeshkar's other haunting rendition, "kahin deep jale kahin dil".  Imagine a woman walking on a dark night, dressed in white with a lamp and the sounds of her anklets. Did that just send shivers down the spine? A tale of love and revenge, Bees Saal Baad was the highest grosser the year it released. The cold, dark nights and background score is sure to spook you.
Source: cinemazworld
Dead silence– This 2007 movie is about a ventriloquist and his dolls. Jamie, the protagonist, receives a ventriloquist doll from someone in his town. Within a few hours of receiving it, his wife is found dead. Jamie unravels the story of the doll and its owner. The movie is gripping and scary. We are quite sure you will want your partner around you even after the movie.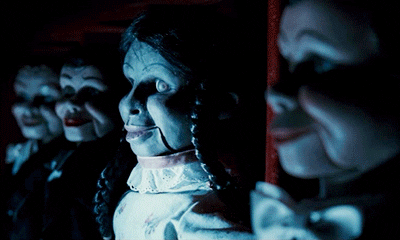 Source: GIPHY